Name: Goldie
Race Name: Modern Gold
DOB: 23/10/2006
Sex: Mare
Height: 15 HH
Color: Bay
Breed: Standardbred
Freeze Brand: S4060271
Sire: Modern Art USA
Dam: Golden Abbey
Available: 10/03/21
Location: Morayfield QLD
Goldie is a 14yo Bay Standardbred mare with a quirky personality. Goldie retired from racing in June 2020 after having 108 starts and earning just over $27000. She retired sound, just too slow and had enough of racing. Goldie is good to handle, shoe, worm and float etc. but can be a bit stand-offish until she gets to trust you. She will test you, but not nasty, so needs someone that is firm but kind to establish her trust. Goldie has been with a foster carer since August last year to let down from racing and has been restarted in groundwork during the past 6 months. Her original owner said that she has been ridden in the past but not for several years so would need to be started again by someone with experience. Goldie is sound and in good health, but does suffer from mild Queensland Itch so requires rugging and treatment to keep this under control during the warmer months. She does tend to be dominant with other horses at feed time, but is good around young horses.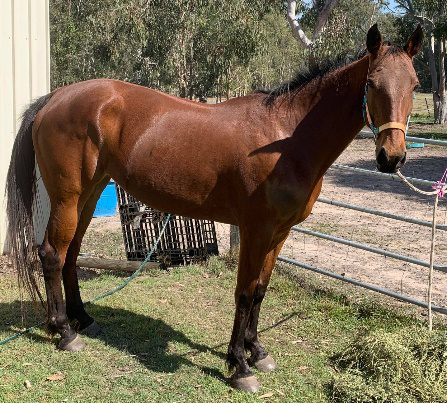 To talk to someone about adoption
Hi Future Owner!
My name is Goldie and I've retired from racing sound, but apparently I'm too slow… meh, what-eva!  Worming, catching, shoeing and floating are no problems for me.  However I am a little stand-offish until I get to know and trust you.
Yonks ago someone rode me, but I really wouldn't mind someone with experience to help me get on with my ridden career.  Check out more of my history in the 'About' section above.
Love, Goldie